Climbing Special Events
Quick Links:
---
Reach New Heights!
Throughout the year The WELL hosts several competitions and events at the rock wall! Whether you are a beginner or experienced climber we have an event for you.
Technique Top Out
Technique Top Out is held on the first and third Wednesday of each month. Come learn how to improve your climbing technique, and how to train for climbing in a laid-back atmosphere. Each week will highlight a new technique or way to train! Fall 2017 dates:
Febuary 7th & 21st: 5:00pm - 6:00pm
March 7th: 5:00pm - 6:00pm
April 4th & 18th: 5:00pm - 6:00pm
May 2nd: 5:00pm - 6:00pm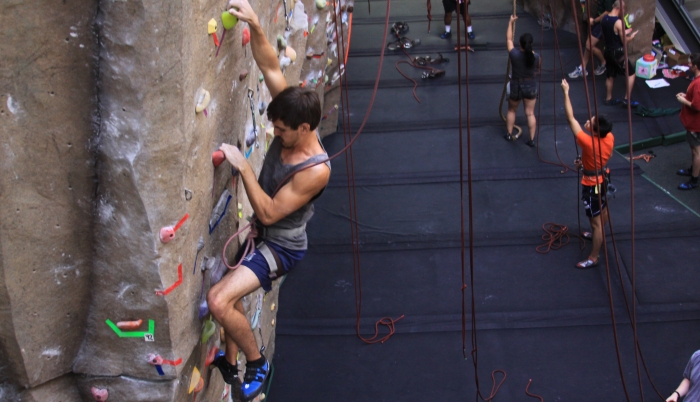 Chalk Talk
Explore the world of climbing with free presentations by professionals and guest speakers.
Chalk Talk Workshop: Adidas Climbing Athlete, Chelsea Rude. Chelsea is a professional climber and coach. She coaches a local youth team in Boulder, and was one of the coaches for the US Climbing Team from 2010 to 2013. Chelsea is currently ranked top 10 in the world for both sport climbing and bouldering. She has sent multiple 5.14's and V11's

April 25th,Climbing Clinic 5:00pm-6:00pm, Presentation 7-8pm
Location: Climbing Wall
First Ascent Thursdays
First Ascent Thursday are free social events at the climbing wall where students can experience competitive activities, challenging games, and a sense of community.
March 15th, 5:00pm - 7:00pm - Game Night
April 12th, 5:00pm - 7:00pm - Crate Staking
May 10th, 5:00 - 7:00pm - Movie Night
Level Up Competition
Check back this fall for more information.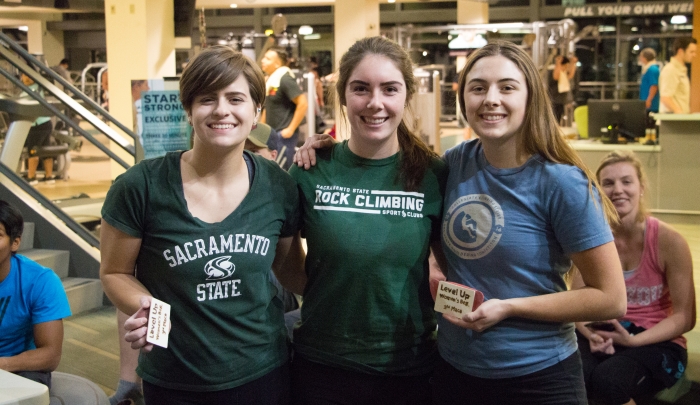 Mile High Climb
February 2018
Join the challenge! The Mile High Climb challenge runs from February 1st - 25th each year. Climb one vertical mile (132 laps) within the month of February to receive a t-shirt! You can complete this challenge as an individual, or as a team of up to 4 people. Register at the WELL front desk, $5 per person.
Rules:
One mile on the WELL's Climbing wall is equal to 132 climbs (laps).
Teams can work together to reach the mile-high distance.
It's a great idea to get belay certified for the Mile High Climb.
Sign up for a Climbing Fundamentals class at the Equipment Desk today!
All 132 laps must be completed to earn the t-shirt!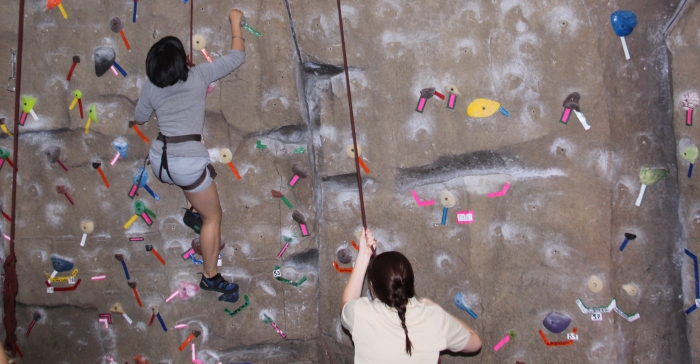 Go Boulder Go Home
March 3rd 2018
Join us for the 8th Annual USA Climbing, Collegiate Climbing Series.
March 3rd, 9am - 3pm
$16 a person
Must be a USA Clmibing Member to Compete
Lunch provided from Gordito Burrito
Raffel and prizes
For more information and to register
Special thanks to our sponsors: