Information
Quick Links:
---
Have Fun, Play Hard, Make Friends
The Intramural Sports program offers leagues and tournaments each semester ranging from one day to eight weeks in length. Co-Rec (contain gender requirements), Women's, and Open (no gender requirements) leagues are available for each sport. Participants can register as a free agent (single) or as a team. All skill levels, genders, and backgrounds are welcome!
9 out of 10 students on this campus who participate in Intramural Sports claim that it reduces stress and provides them with opportunities to make friends on campus.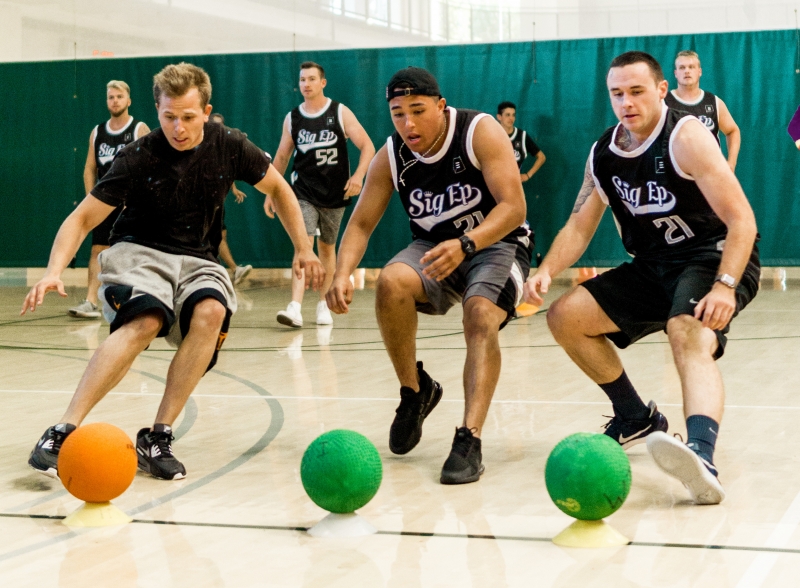 Register
Interested participants may register a team online through IMLeagues or at the Intramural Resource Center (IRC) located across from the Gym Box in The WELL during our hours of operation. Individuals or Free Agents looking to join a team may come to the IRC to sign up based on individual availability. Teams are placed in leagues or tournaments on a first-come, first-served basis.

Free Agents
A Free Agent is an individual who wants to participate in an Intramural league, but does not have a team. If there are enough free agents interested in a specific sport and league, a free agent team will be created at the free agent meeting prior to the beginning of the season. Free agency offers the opportunity to play the sport(s) you enjoy, be active, and to meet new people.
Become a Free Agent
Register online via the links above for your specific sport by clicking on the "Free Agents" option or come see us in the WELL at the Intramural Resource Center between the hours of 5pm-9pm Mondays - Thursdays (IRC open during the semester only).
Attend the mandatory Free Agent meeting to form a team with other Free Agents, meet your teammates, select your uniform color, coordinate potential team practices and create your team name.
Team Captains
Each team registered to participate in an Intramural activity must have a designated team captain who will act as the official liaison between the team and the Intramural department. There will be a pre-season Captain's Meeting for the majority of our sports to discuss policies, procedures, rules and expectations. A team captain or representative must be present at this meeting otherwise that team may lose their spot in the league.
Captain Expectations
Properly register themselves and/or their team through IMLeagues
Attend the mandatory Captain's meeting(s) prior to the beginning of the season
Inform their team members of the information that was covered at these meetings and continue to communicate with their teammates throughout the season about any pertinent information provided by the Intramural Sports department
Be the spokesperson for their team throughout the season before, during and after games
Facilitate any roster modifications that need to occur while roster additions are still accepted
Be an accountable, reliable and responsible representative of their team throughout the season
Other duties as assigned
Intramural Resource Center
Stop by our Intramural Resource Center!
Fall 2019 Hours (beginning Monday, August 20th)
Monday - Thursday 4:30pm - 9:00pm
Friday: 11am-2pm
Saturday & Sunday Closed