Sports Movie Bracket Challenge
Quick Links:
---
Welcome to the Sports Movie Bracket Challenge
As a part of The WELL's virtual programming lineup, we have compiled 32 of the top sports movies of all time and placed them into a single-elimination tournament bracket. Did we miss a few, that's entirely likely. However, we hope that you join us for this fun competition to celebrate some of the movies that we all love so much. This contest is available to current WELL members only. The top finishers in this contest will receive WELL gear with the champion receiving an Intramural Champion t-shirt and a Champion Ring.
Here's how it will work:
1) Click on the link below to download your PDF bracket. You will review the opening matchups and fill in who you think will win that matchup. From there, you will continue to populate each box until you reach the championship matchup and eventually the champion!
2) You will save your PDF with each box completed or you can screenshot your completed bracket and upload that completed bracket through the form below. Just make sure that all matchups are legible.
3) Bracket submissions will be accepted starting the morning of Monday, April 13 through the evening of Sunday, April 19.
4) Matchups will be posted on The WELL's Instagram (@wellsacstate) story one-by-one starting on Monday, April 20. Whoever views that story will have the ability to vote for which movie they feel is deserving of winning that matchup. Those votes will decide which movies advance in the bracket. Anyone who views the story is eligible to vote (even non-WELL members), but only WELL members are allowed to submit a bracket. The voting timeline is below.
5) Voting: Opening Round (April 20-26) Sweet Sixteen (April 27-May 3) Elite Eight (May 4- 10) Final Four & Championship (May 11-14) Champion Named (May 15)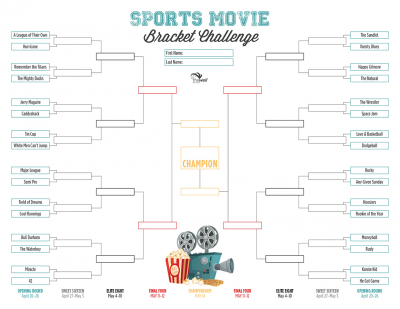 You can see the bracket below that only has the opening matchups. We will update the bracket here each week with winners from each round so you can follow along.
Don't forget to follow us on Instagram to vote!
Final Standings