The WELL's New Website
Quick Links:
---
Notice something different when you visited our website? You got it! The WELL has a brand new design! We spent months working with faculty, staff, and our students to come up with a great design that meets the needs of our campus community. We hope you find this new website easier to navigate and find the information that is most important for you.
New Features
Mobile Ready
Our New website is fully responsive so it works on your mobile device all the way up to your desktop device with the same website. No more trying to focus on an area and pinching to zoom on your phone
.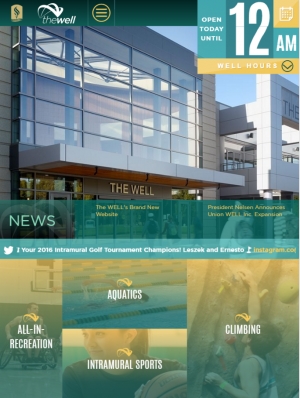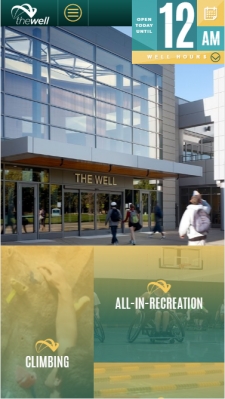 Better Information
We really focused on getting our information for our community better organized and easier to find. We hope this helps you learn more about our programs and offerings a lot easier.
Chat (Coming Soon)
Ever wanted to get answers to a question from our staff about your membership, or programs? We now have a live chat feature to allow you to reach out to us when you need to. If we are not available when you try to hi don't worry we will get back to you very quickly. Soon you will be able to just click the live chat button on the left side of every page on our website.
Hours
Want to see when we are open for the day? Check out our closing time on our main page in the right hand corner of the page. Now you know when we are open with one visit to our site.
The Swarm Tracker
Your quick check on what's going on in The WELL with participation and how popular it is at any given moment. Want to work out and not sure how things are going in the building? Check it out at thewellatsacstate.com/swarm-tracker
Bigger Social Media Presence
Check out our Social Media Zone. Your one stop shop for everything social media at The WELL.
Mailing List
Want to get the latest information about our Events and Offerings? Join our mailing list! Just another way we can communicate with you.
We hope you enjoy the new design. Check it out and let us know how we did below!