All-In-Recreation (AIR)
Quick Links:
---
The WELL is committed to providing access to ALL students of Sacramento State. All-In-Recreation or AIR is an opportunity for ALL to get involved and to get active together. Inclusion is a philosophy that we at The WELL embrace; Inclusion is going beyond having an accessible facility by actively supporting the participation of people with and without disabilities.
The AIR program provides the opportunity for students with and without disabilities to participate in adaptive sports and recreational programs, and also works to provide accommodations for students with disabilities to engage in other services offered by The WELL.
Interested in volunteering? We accept volunteers on a semester basis. If you are interested in volunteering for the Spring 2019 semester please contact us with the button below.
AIR Programs and Events

Drop-in WELLness
Every Wednesday 12:00 pm -1:00 pm
The mission of the Drop-in WELLness Series is to provide free weekly opportunities for the CSUS community to engage in holistic wellness activities. Drop-in sessions will occur at different outdoor spaces throughout the beautiful CSUS campus. Offerings will rotate every few weeks between wellness activities including yoga, tai chi, mindfulness practices, and nature engagement practices. Sessions offered will be evidence-based for promoting mental, emotional, physical, and social wellbeing. The focus of these sessions is to connect students, faculty, staff, and administrators through easy-to-learn, easy-to-access practices for developing healthy stress reduction habits.
Locations vary Date:
4/3/19 Riverfront
4/10/19 Alumni Grove
4/17/19 Arboretum
4/24/19 Riverfront
5/1/19 Arboretum
5/8/19 South Greens

Drop-in WELLness
April 9th 6:00 pm- 9:00 pm - Theme is Giant Game Night- Bring your friends to the 2nd floor of the WELL
April 19th 6:00 pm- 9:00 pm - Queer Prom, Held in the Union
Hornet Nights are a series of events partnered with the health center to provide students with an opportunity to engage in various social activates with peers. Each night students will engage in conversations about MH, Substance use, and emotional support.

Adaptive Climbing
May 1st, 4:00-6:00 PM
The WELL Climbing Wall
The climbing wall at The WELL provides adaptive climbing for participants who need an adaptation. We have adaptive equipment that allows participants to climb the wall without the use of their legs. Great news, equipment for adaptive climbing are provided during open climbing hours if needed, just ask.
Beep Kickball
April 23, 4pm-6pm
The WELL Lawn (South Greens)
Beep kickball is very similar to standard kickball with few notable exceptions. Most noticeably, certain positions will require the player to be blindfolded. Players use their sense of hearing to locate the ball and bases, which beep to inform players of where they are.
Wheelchair Rugby
April 4th, 3pm-5pm (MAC)
April 18th, 3pm-5pm (MAC)
May 2nd, 3pm-5pm (MAC)
The MAC Court
Wheelchair Rugby is a team sport (2 teams of 4), where the objective is to get the ball past the other teams' goal line. The sport is played in specialized wheelchairs designed to withstand contact from other chairs. Wheelchair Rugby is a fast-paced adaptive sport with contact being allowed. Come learn to play with AIR!

Wheelchair Basketball
Every Friday! - February 8th - May 3rd 1:00-4:00 PM
The WELL Gym Box
Wheelchair basketball is the number one adaptive sport in the world. The rules of basketball and wheelchair basketball are very much alike; the most noticeable difference being that you have to bounce the ball on the court after every two pushes of your wheelchair. Come learn to play with AIR!
Earn an AIR Shirt
Earn this shirt! Participate in 8 AIR events throughout the spring semester and receive a free AIR. t-shirt! Pick up your stamp card at The WELL today!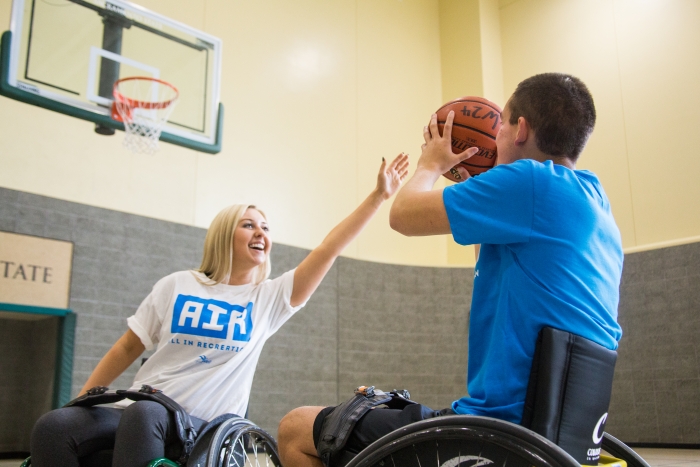 Spring 2019 Program Flyer