All-In-Recreation (AIR)
Quick Links:
---
The WELL is committed to providing access to ALL students of Sacramento State. All-In-Recreation or AIR is an opportunity for ALL to get involved and to get active together. Inclusion is a philosophy that we at The WELL embrace; Inclusion is going beyond having an accessible facility by actively supporting the participation of people with and without disabilities.
The AIR program provides the opportunity for students with and without disabilities to participate in adaptive sports and recreational programs, and also works to provide accommodations for students with disabilities to engage in other services offered by The WELL.
Interested in volunteering? We accept volunteers on a semester basis. If you are interested in volunteering for the Spring 2019 semester please contact us with the button below.
AIR Programs and Events

Special Olympics Unified Basketball
Every Thursday! - January 31st - March 14th, 9:30 AM-11:00 AM
The WELL Gym Box (Courts 3&4)
The WELL is excited to partner with Special Olympics Northern California to provide a Unified Sports soccer program. Unified Sports programs include individuals with developmental disabilities (Unified Athletes) and without disabilities (Unified Partners) playing on the same team to promote inclusion. The WELL's Unified Sports basketball program is 6 weeks in duration; each 1.5 hour session will include "skills and drills", along with structured games for each team. Teams are set for the duration of the program to provide consistency and promote new friendships. With that said, we ask that our Unified Partners commit to the full 6 weeks.
Register at no cost by January 28th (limited to individuals with WELL memberships). Spaces limited.

Adaptive Climbing
January 29th, February 6th, March 27th, May 1st, 4:00-6:00 PM
The WELL Climbing Wall
The climbing wall at The WELL provides adaptive climbing for participants who need an adaptation. We have adaptive equipment that allows participants to climb the wall without the use of their legs. Great news, equipment for adaptive climbing are provided during open climbing hours if needed, just ask.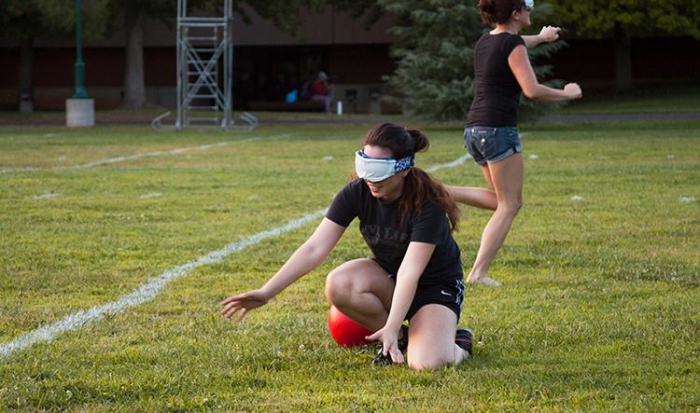 Beep Kickball
February 5th, 3pm-5pm
March 5th, 4pm-6pm
April 23, 4pm-6pm
The WELL Lawn (South Greens)
Beep kickball is very similar to standard kickball with few notable exceptions. Most noticeably, certain positions will require the player to be blindfolded. Players use their sense of hearing to locate the ball and bases, which beep to inform players of where they are.
Wheelchair Rugby
February 7th, 3pm-5pm (MAC)
February 19th, 4pm-6pm (Gym Court 4)
February 21st, 3pm-5pm (MAC)
February 26th, 4pm-6pm (Gym Court 4)
March 7th, 3pm-5pm (MAC)
April 4th, 3pm-5pm (MAC)
April 18th, 3pm-5pm (MAC)
May 2nd, 3pm-5pm (MAC)
The MAC Court
Wheelchair Rugby is a team sport (2 teams of 4), where the objective is to get the ball past the other teams goal line. The sport is played in specialized wheelchairs designed to withstand contact from other chairs. Wheelchair Rugby is a fast paced adaptive sport with contact being allowed. Come learn to play with AIR!

Wheelchair Basketball
Every Friday! - February 8th - May 3rd 1:00-4:00 PM
The WELL Gym Box
Wheelchair basketball is the number one adaptive sport in the world. The rules of basketball and wheelchair basketball are very much alike; the most noticeable difference being that you have to bounce the ball on the court after every two pushes of your wheelchair. Come learn to play with AIR!
Earn an AIR Shirt
Earn this shirt! Participate in 8 AIR events throughout the spring semester and receive a free AIR. t-shirt! Pick up your stamp card at The WELL today!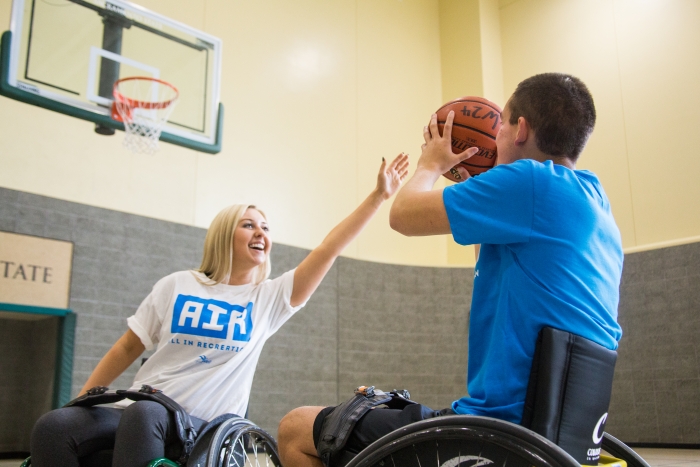 Spring 2019 Program Flyer