All-In-Recreation (AIR)
Quick Links:
---
Inclusive Programs & Events
The WELL is committed to providing access to ALL students of Sacramento State. All-In-Recreation or AIR is an opportunity for ALL to get involved and to get active together. Inclusion is a philosophy that we at The WELL embrace; Inclusion is going beyond having an accessible facility by actively supporting the participation of people with and without disabilities.
The AIR program provides the opportunity for students with and without disabilities to participate in adaptive sports and recreational programs, and also works to provide accommodations for students with disabilities to engage in other services offered by The WELL. To request an accommodation email inclusiverec@unionwellinc.org
AIR Volunteer Program
Interested in volunteering or taking a service-learning class? We accept volunteers on a semester basis. If you are interested in volunteering for the Spring 2019 semester, please fill out the form below. Volunteers that provide 20 hours of service earn an AIR T-shirt. Volunteer Application.
Adaptive Sports Sampler February 22nd, 2 pm - 4 pm
AIR is partnering with RPTA and the City of Sacramento Access Leisure to share about the wonderful world of adaptive and Paralympic Sports. This event is open to the public, so bring your family and share it with your community. We want to see you there!
We will have opportunities to learn to play Paralympic Sports like Goalball, Wheelchair Rugby, Wheelchair Basketball, Wheelchair Tennis, Sitting Volleyball, Cycling, and Adaptive Climbing.
Unified Basketball sponsored by Special Olympics
The WELL is excited to partner with Special Olympics Northern California to provide a Unified Sports Basketball program. Unified Sports programs include individuals with developmental disabilities (Unified Athletes) and without disabilities (Unified Partners) playing on the same team to promote inclusion. The WELL's Unified Sports Basketball program is eight weeks in duration; 7 weeks of practice 1.5-hour practices. On April 9th we will host the season tournament. If you would like to volunteer as a Unified Partner, please fill out our volunteer application. We ask volunteers to commit to the full season and a positive team atmosphere. Volunteer training for this program begins Febuary 6th. Volunteer Registration form required.
Thursdays (2/20-4/9) 9:30-11:00 am
Location: WELL Gymbox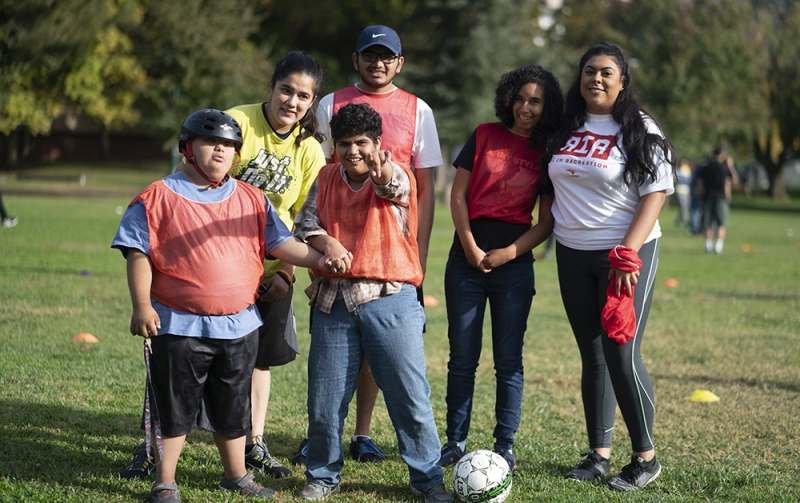 Goalball
This program is a collaboration with the City of Sacramento - Access Leisure. Goalball was invented in 1946 to help rehabilitate veterans who had lost their sight during the Second World War. The object of the game is to throw a ball past the opponents and into their net to score points. Players stay on their hands and knees to defend their net and score against their opponents. All abilities WELCOME!
Location: Yosemite Hall 183
Time: 11:00am -3:00pm
February 22
March 7, 28
April 4, 18
May TBD
Outdoor WELLness
The Outdoor Wellness series provides free weekly opportunities for the CSUS community to engage in holistic wellness activities. Drop-in sessions occur on The WELL South Green located on the beautiful CSUS campus. Offerings will rotate every few weeks between inclusive wellness activities, including yoga, tai chi, mindfulness practices, and nature engagement practices. Sessions offered will be evidence-based for promoting mental, emotional, physical, and social wellbeing. The focus of these sessions is to connect students, faculty, staff, and administrators through easy-to-learn, easy-to-access practices for developing healthy stress reduction habits.
Wednesdays 12:00-1:00pm
Location: WELL Lawn (South Green)
April 8
April 15
April 29
May 6
Adaptive Climbing
The climbing wall at The WELL provides adaptive climbing for participants who need an accommodation or adaptation. We have adaptive equipment that allows participants to climb the wall without the use of their legs, as well as climbing without vision. Equipment for adaptive climbing is available at the Equipment Desk during all open climbing hours if needed.
March 10 3:00 pm - 7:00 pm
Location: WELL Climbing Wall

Learn-To-Play Series
February 28, 1pm-3pm
March 20, 1pm-3pm
April 10, 1pm-3pm
Wheelchair Basketball
Wheelchair basketball is the number one adaptive sport in the world. The rules of basketball and wheelchair basketball are very much alike; the most noticeable difference being that you have to bounce the ball on the court after every two pushes of your wheelchair. Drop-in or register in advance on the MINDBODY app. Athletic Wheelchairs are provided to participants.
Location: WELL Gym Box
Wheelchair Rugby
Wheelchair Rugby is an inclusive team sport consisting of two teams with four players each. The objective is to get the ball past the other teams' goal line. The sport is played in specialized wheelchairs designed to withstand contact from other chairs. Wheelchair Rugby is a fast-paced adaptive sport with contact being allowed. Drop-in or register in advance on the MINDBODY app. Athletic Wheelchairs are provided to participants.
Sit Volleyball
Sitting volleyball is a Paralympic sport using the concepts of volleyball without players utilizing their legs. Players must have at least one buttock in contact with the floor whenever they make contact with the ball. This sport is open to all WELL memberships. Drop-in or register in advance on the MINDBODY app. All equipment will be provided for participants.
Wheelchair Tennis
Wheelchair tennis is an inclusive sport offered in our learn-to-play series. The size of the court, net height, rackets, are the same, but there are two major differences from pedestrian tennis: athletes use specially designed wheelchairs, and the ball may bounce up to two times, where the second bounce may also occur outside the court. Drop-in or register in advance on the MINDBODY app. Athletic Wheelchairs are provided to participants.