Why The WELL
Quick Links:
---
More Than a Gym
The WELL offers a variety of membership types, services, and programs to customize your wellness journey! All campus affiliates are eligible for WELL membership including: students, faculty, staff, alumni, and sponsored members. Sponsored members are over 18 years of age, and reside with a current WELL member. WELL membership is currently not available to non-affiliated community members. WELL Membership does not include parking on campus. We encourage WELL members to use alternate and green transportation options: walking, biking, light rail, ride sharing, etc. For questions or comments regarding WELL parking please contact UTAPS at (916) 278-7275.
The WELL is a part of Union WELL Inc. which is a proud member of the Sacramento State Division of Student Affairs. Union WELL Inc. exists for the benefit of students, offering a welcoming environment in which students, faculty, staff and alumni may participate in campus life. The WELL Campus Recreation Center is so much more than a gym! Our mission, structure, programs, and services are rooted in social responsibility. The WELL is an investment you can be proud of!
What's Included in WELL Membership?
Fitness Classes
The WELL offers over 70 fitness classes per week each semester. Most of our classes are free to members including Yoga, Zumba, Boot Camp, Barre, Cycle, Pilates, etc. To sign up for a free fitness class, visit our classes page or download the MINDBDOY app. to register. All equipment for classes is provided at no charge, however, if you have your own yoga mat you are welcome to bring it.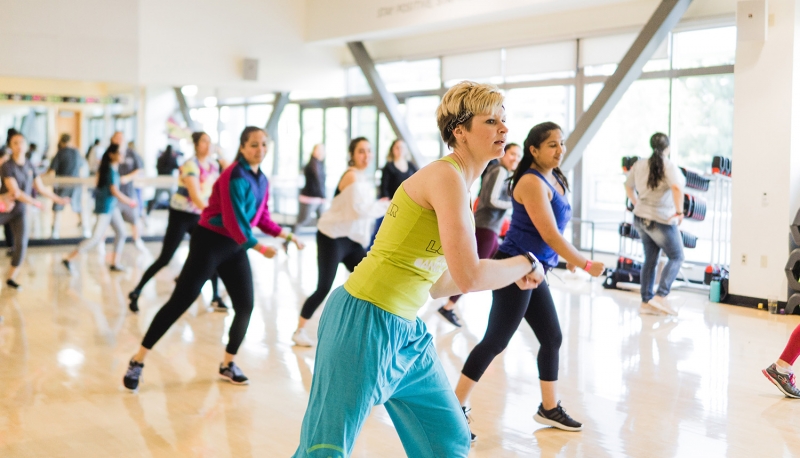 Lockers, Towels, and Equipment
Our locker rooms include showers, full and half lockers, and self-setting combination locks. You do not need to bring a lock with you. All locker rooms are located on the first floor of The WELL.
The Retreat is a brand new, all gender space and is one of the most inclusive spaces in the WELL including ADA accessible showers and restrooms. This area is located down the hall past the gym box and MAC court.
The WELL offers a complementary towel service. Bath towels and gym towels can be checked out at the equipment or fitness desk for daily use.
Guest Passes
A guest is a member-sponsored user of the facility, or any person who is eligible for membership. Guests will be the responsibility of the member at all times while visiting the WELL. Members must remain in the building with their guests at all times. Guests must be 18 years of age or older.Guests must show a valid photo ID to use the facility.
​Free Guest Passes
Each WELL member receives one FREE guest pass per semester! To redeem your free guest pass simply stop by The WELL Front Desk on the day your guest would like to workout. Unused free guest passes do not roll over from semester to semester
Additional Guest Passes
After you have used your free semester guest pass, daily guest passes are available for purchase for $10 per visit, or $5 with a valid One Card. Guests must present their One Card every time they enter the facility to receive the discounted $5.00 rate. Members are eligible to bring in one guest per day.
Weekender Guest Passes
Three-day weekender passes are $15 and available for use Friday, Saturday, and Sunday!
Free Introductory Session with a Personal Trainer
All WELL members are eligible for one free introductory session with a personal trainer to discover how working with a fitness professional can help you achieve your goals. If you are already a member, you can sign up at the Engagement Center or schedule below.
State-of-the-art Facility Access
The WELL at Sac State is a new modern 188,754 square foot recreation and wellness facility. The WELL was built in 2010, and completed a major expansion project in 2021.
13,860 sq ft cardio and weight space
5 Fitness studios
3 Lane indoor running track
Multi-purpose activity court
4-court basketball complex
4 Raquetball Courts
Rock climbing wall - 39' x 56"'
Bouldering wall - 13' x 15'™
Olympic platforms
An Investment You Can be Proud of
Campus Engagement
According to the Institute of Higher Education, student engagement has direct benefits to academic success. The WELL uses 7-dimentions of Wellness to create programs and services that encourage student engagement outside of the classroom.
Student Development
Union/WELL Inc. employs approximately 200 student part-time staff. The WELL is committed to developing students professionally through innovation, collaboration, and education. Student Development is an intentional practice of maintaining the student experience outside of academics, as well as, practical application of critical thinking and professional skills to prepare for life after graduation.
Environmentally Responsible
The Well is a LEED Green Building project. LEED stands for Leadership in Energy and Environmental Design and is governed by the U.S. Green Building Council.
There are several levels of LEED certification that a project can achieve: Basic, Silver, Gold, and Platinum. These certifications are based on a point system for meeting environmental goals in new construction of a building. The Well has earned Gold Certification with 41 points in the following categories: Water Efficiency, Energy and Atmosphere, Materials and Resources, Indoor Environmental Quality, Innovation and Process, and Sustainable Sites.
Nonprofit
Union/WELL Inc. is a 501 (c)(3) Nonprofit that exists for the benefit of Sacramento State students, affiliates, and alumni. The WELL is a campus auxiliary. The majority of funding for The WELL comes from student fees. There is no additional fee to use The WELL for Sac State Students. The Well has been funded by a fee voted on by the students. All students are eligible for membership to The Well as part of the student fees they pay each semester in their tuition.