Overview
Quick Links:
---
What's Included in WELL Membership?
The WELL offers a variety of membership types, services, and programs to customize your wellness journey! All campus affiliates are eligible for WELL membership including: students, faculty, staff, alumni, and sponsored members. Sponsored members are over 18 years of age, and reside with a current WELL member. WELL membership is currently not available to non-affiliated community members. WELL Membership does not include parking on campus. We encourage WELL members to use alternate and green transportation options: walking, biking, lightrail, ride sharing, etc. For questions or comments regarding WELL parking please contact UTAPS at (916) 278-7275.
Fitness Classes
As of May 15, 2017 all Cardio/Strength and Mind/Body fitness classes will be free! Fitness classes are now included in all WELL memberships!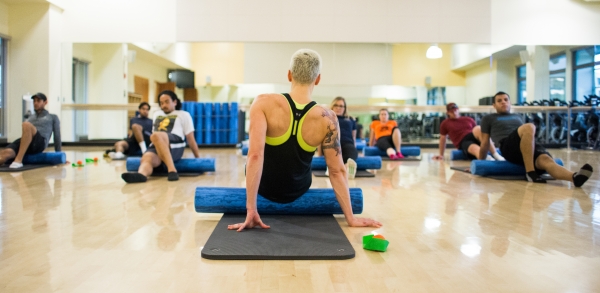 Lockers, Towels, and Equipment
Our locker rooms include showers, full and half lockers, and self-setting combination locks. You do not need to bring a lock with you. All locker rooms are located on the first floor of The WELL.
Cabana locker rooms are co-ed and designed for individuals that may want additional privacy and/or have an aid with them of the opposite sex. Please check in at the Equipment Desk to receive a code to access the Cabana Locker Room.
The WELL offers a complementary towel service. Bath towels and gym towels can be checked out at the equipment or fitness desk for daily use.
Guest Passes
A guest is a member-sponsored user of the facility, or any person who is eligible for membership. Guests will be the responsibility of the member at all times while visiting the WELL. Members must remain in the building with their guests at all times. Guests must be 18 years of age or older.Guests must show a valid photo ID to use the facility.
​Free Guest Passes
Each WELL member receives one FREE guest pass per semester! To redeem your free guest pass simply stop by The WELL front desk on the day your guest would like to workout. Unused free guest passes do not roll over from semester to semester
Additional Guest Passes
After you have used your free semester guest pass, daily guest passes are available for purchase for $10 per visit, or $5 with a valid One Card. Guests must present their One Card every time they enter the facility to receive the discounted $5.00 rate. Members are eligible to bring in one guest per day.
Weekender Guest Passes
Three-day weekender passes are $15 and available for use Friday, Saturday, and Sunday!
Free Introductory Session with a Personal Trainer
All WELL members are eligible for one free introductory session with a personal trainer to discover how working with a fitness professional can help you achieve your goals. If you are already a member, you can sign up at the Fitness Desk or schedule below.
State-of-the-art Facility Access
The WELL at Sac State is a new modern 150,000 square foot recreation and wellness facility. The WELL was built in 2010, and will undergo an expansion in 2018.
13,860 sq ft cardio and weight space
3 Fitness studios
3 Lane indoor running track
Multi-purpose activity court
4-court basketball complex
4 Raquetball Courts
Rock climbing wall - 39' x 56"'
Bouldering wall - 13' x 15'™
Olympic platforms