Climbing
Quick Links:
---
Reach New Heights
Welcome to the Rock Climbing Wall at The WELL. All members can climb at the WELL, regardless of experience. We have qualified staff to help assist you, and routes ranging from beginner to advanced. Routes typically change every 2 months. Climbing shoes and harnesses are provided. We also sell chalk at the Equipment Desk for an affordable rate. Rock climbing is a physically and mentally demanding sport, one that often tests a climber's strength, endurance, agility and balance along with mental control. Come visit one of our staff or see the orientation video below to get started! Bouldering is allowed during all WELL hours. The Safety Orientation below is required before the first time you climb.
Climbing Safety Orientation
Members are required to complete a safety orientation before their first time climbing at The WELL. This safety orientation serves as your all-access pass to bouldering in our facility. After completing it, you are free to rent shoes and boulder in our gym any time that the WELL is open. The orientation also allows you to participate in top rope climbing with our staff during staffed top rope hours. Take the orientation quiz below after watching our video! Take Our Saftey Orientation Quiz
Hornet Hill
Hornet Hill is our introductory route at The Wall. This route is great for beginner climbers! Participants will climb to the top of the wall, and place a ping pong ball with their name into Herky's nest. Then, the ball will roll all they way down into our case of students who have conquored the hill. At the end of each semester we draw one name to give away a luxury prize. Climbers can simply stop by the wall during Top Rope hours to climb Hornet Hill. Hornet Hill is great for First Year Experience classes and teambuilding as well! E-mail climbing@unionwellinc.org to schedule your group today.
Semester Climbing Hours
Monday - Thursday: Noon -10:00pm
Friday: Noon - 9:00pm
Saturday: 10:00am - 3:00pm
Family Climbing: Saturdays, 10:00am - 3:00pm
Bouldering Hours: Available anytime The WELL is open
Adjusted Climbing Wall Hours
Closed for routesetting: April 12th-17th
**Hours subject to change due to holidays and adjusted facility hours.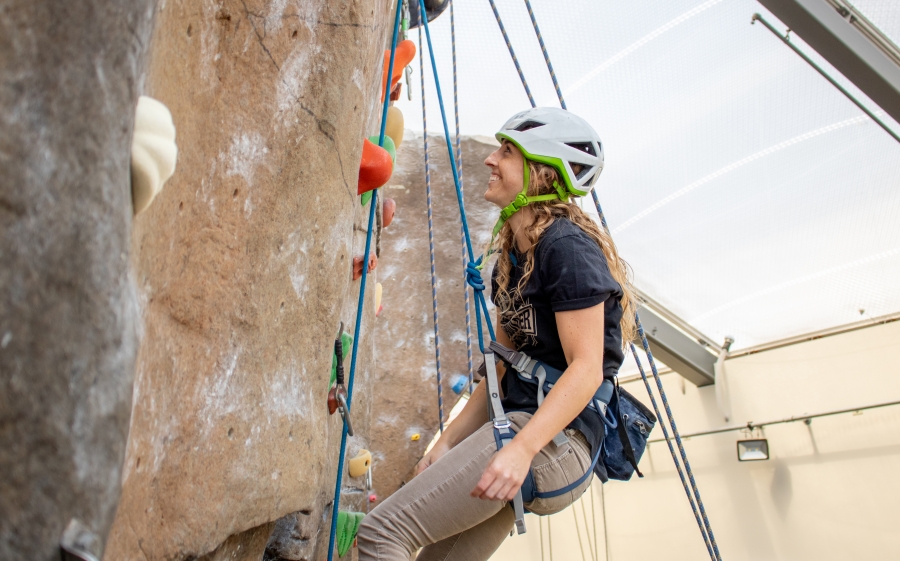 Climbing Workshops
Climbing at The WELL is included in your memebrship at no additional charge. If you are looking to take your skills to the next level, these affordable skills workshops are for you!
Lead Climbing
Lead Climbing is as close as you can get to the real rock climbing experience. This intensive 2.5 hr class teaches you the techniques required to lead climb at the WELL. Pre-requisites for this class are: Top-rope Belay certified and ability to climb 5.9 without falling.
Schedule: The first and last Monday of every month, 1:00-3:30pm, $5.00 per person
Capacity: 4 participants
Climbing Fundementals
Climbing Fundamentals is your go-to class for becoming an avid top-rope climber. We teach proper belay technique, knots, climber communication, and catching falls. After this class you are able to test out and belay your friends during top-rope hours. Sign up at the Equipment Desk.
Schedule: The first and last Thursday of every month at 5:30pm, $5:00 per person
Capacity: 6 participants
Climbing Skills Workshop
Climbing Skills Workshop is for all levels of climbers that want to improve their climbing ability. This one-hour session will go over climbing technique, vocabulary and provide some personal instruction. Sign up at the Equipment Desk.
Schedule: The third Tuesday of the month at 3:00pm, $5:00 per person
Capacity: 4 participants
Gym to Crag
Designed for indoor climbers who are ready to take their climbing skills outdoors. This course will cover technique, equipment, locations, and other skills to advance from indoor to outdoor climbing. Register at the Equipment Desk.
Schedule: March 20th, $20.00 per person
Capacity: 8 participants
American Mountain Guides Association, Climbing Wall Instructor Course
The Climbing Wall Instructor Program (CWI) certifies professionals who teach in an indoor or artificial wall environment. It aims to increase the level of professionalism in indoor climbing and to improve the level of climbing wall instruction, to develop a more consistent standard of care for climbing instructors, to evaluate the skills of climbing instructors and to provide guidance for further professional development. There are two certification levels:
AMGA CWI Top Rope
AMGA CWI Lead
This course addresses the basic technical skills necessary to manage an instructional program at a climbing facility. The course length is a minimum of 20 hours of instruction, skills demonstration, and evaluation, run over 2.5 days. CWI Certification lasts for three years. After three years current CWI's can re-take a one-day reassessment to regain the CWI certification.
Schedule: Three day course, dates TBD
Capacity: 6 participants
Price: $325 per person. (CSUS Affiliate Price: $225 per person. Email for details)
Register through AMGA (must be an AMGA member to apply)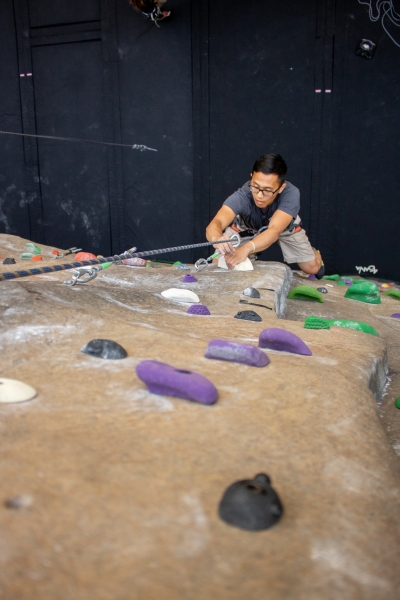 Special Events
Throughout the year The WELL hosts several competitions and events at The Rock Wall. Whether you are a beginner or experienced climber we have an event for you.
Climbing Skills Clinic
Come learn how to improve your climbing or learn new skills for Free!. Registration is required and space is limited, sign up at the Equipment Desk.
Advanced Bouldring : Febuary 19, 5:00 - 8:00pm
Crack Climbing: March 18, 5:00 - 8:00pm
Go Boulder Go Home
Multi-university bouldering competition in partnership with USA Climbing, Collegiate Climbing Series.
All cimbing levels welcome. Advanced registration is strongly encouraged.
$16 per person (discounted rate for Sac State students, must register at The WELL: $10)
Day of Registration: The WELL Front Desk
Comp Schedule: Fall 2020
9:00am: Late Registration Opens
9:30am: Mandatory Climbers Meeting
10:00am-2:00pm: Open Climbing, Redpoint Format
12:00pm: Snacks Available
2:30pm: Raffle Prizes
3:00pm: Awards
Special thanks to:
First Ascent Tuesdays
First Ascent Tuesdays are free social events at the climbing wall where students can experience competitive activities, challenging games, and a sense of community. No regisration necessay. Simply drop-in at The Wall!
Mile High Kick Off!: Febuary 4, 5:00 - 8:00pm
Climbing Games: March 3, 5:00 - 8:00pm
Crate Stacking: April 7, 5:00 - 8:00pm
Mile High Climb
Join the challenge! The Mile High Climb challenge runs from February 1st - 29th each year. Climb one vertical mile (132 laps) within the month of February to receive a t-shirt! You can complete this challenge as an individual, or as a team of up to 4 people. Register at the WELL Front Desk, $5 per person.
Rules:
One mile on the WELL's Climbing wall is equal to 132 climbs (laps).
Teams can work together to reach the mile-high distance.
It's a great idea to get belay certified for the Mile High Climb.
Sign up for a Climbing Fundamentals class at the Equipment Desk today!
All 132 laps must be completed to earn the t-shirt!
Level Up Competition
Level Up is a bouldering competition held each spring semester. Participants have a list of routes to complete. Raffers will be held throughout the event, and winners earn prizes! All climbing levels welcome. Advanced registration encouraged. Day-of registation is allowed.
April 18th, 10:00am - 3:00pm, $5.00 per person
Register: The WELL Front Desk
Family Climbing
Family Climb is an opportunity for both WELL members, and CSUS One Card holders to bring family and children to try rock climbing! Ages 4 and up (must be able to fit in the harness). Family Climb is held every Saturday excluding special events and holidays. Harnesses are provided. Family Climb is not open to community members. Maximum of 4 family members per WELL member or One Card holder.
WELL Members
Adult: Free
Children: $5 per child, up to four children per adult
One Card Holders
Adult: $5
Children: $10 per child, up to four childer per adult