Sac State 5K Fun Run
Quick Links:
---
Congratulations to all of our 2020 Virtual Sac State 5K Fun Run Finishers! Thank you for participating with us!
VIRTUAL 12th Annual Sac State 5K Fun Run: Race Through Space
The 2020 Sac State 5k Fun Run will be a virtual 5k for the first time! The Sac State 5K Fun Run is an event for every physical level and ability! This race is open to everyone! Students, faculty, staff, alumni, and community members of all ages are welcome to sign up to be a part of this University tradition. With the Sac State 5K Fun Run being virtual - you complete your fun run anywhere on your own time!
Program Fund Donation Recipient
The Sac State 5K Fun Run is celebrating 12 years running by donating the 5K net proceeds after direct costs to a participant selected Sac State Campus Program Fund, which are managed by University Development. The Fund which receives the most nominations will receive the donation and it will be announced on Race Day. To nominate a recipient, select a program fund on page three of registration. Race participants do not need to pledge any additional funds to nominate a recipient. These funds have been selected because they align with the seven dimensions of wellness and correlate with The WELL's mission of Lifetime Wellness through Collaboration, Education, and Innovation.
We are proud to announce that the 2020 Donation Recipient will be the Student Emergency Housing Fund!
Student Emergency Housing Fund
Student Emergency Housing is a collaboration between Student Affairs CARES Office and Housing & Residential Life. The program provides short-term housing assistance to students who are unexpectedly displaced from their homes and helps find permanent solutions.Learn more about the Student Emergency Housing Fund.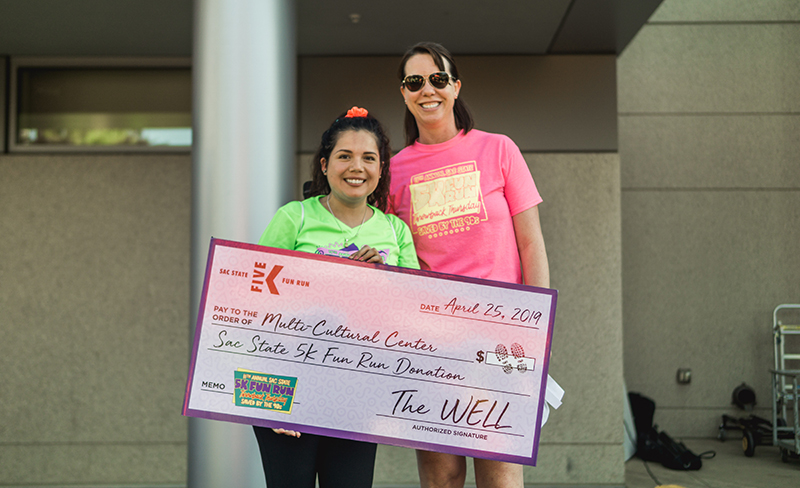 Race Policies
Participants must complete their 3.1 miles on their own time anywhere they choose. They can hike, walk, jog, roll or run their miles. We encourage all participants to practice social distancing, adhere to all state guidelines and follow the rules of the road while getting their miles in.
Participants are responsible for submitting their finishing time by Sunday, April 26th via the Finisher Submission Form.
Chip Timing Results & Awards
Please note that due to the Virtual aspect of this year's race, there will not be chip timing or awards given out.
Previous Race Results

Sponsorship
Thank you to our 2020 Sac State 5K Fun Run Sponsors!
Presenting Sponsors
Sprint Sponsors