Sac State 5K Fun Run
Quick Links:
---
Stay tuned for 2022 Sac State 5k Fun Run!
2021 VIRTUAL Sac State 5K Fun Run: Hornets Helping Hornets
Congratulations to all of our 2021 Virtual Sac State 5k Fun Run Participants! Thank you for joining us this year!
The 2021 Sac State 5k Fun Run will be a virtual 5k! That means you complete your fun run anywhere on your own time between April 15th and April 29th - even on a treadmill! All you have to do is hike, walk, jog, roll or run your 3.1 miles on your own time! The Sac State 5K Fun Run is an event for every physical level and ability! This race is open to everyone! Students, faculty, staff, alumni, and community members of all ages are welcome to sign up to be a part of this University tradition.
Race Perks
Complete your 3.1 miles and you'll earn this sweet race swag:
2021 Participant Shirt
Race Keychain
Race Magnet
Digital Finisher Certificate
What is Doggie Registration and what is included?
For the first time in 2021, dogs are invited to participate! In a normal year, dogs are not permitted at the Sac State 5k Fun Run, but for this year's virtual event, we have created a special dog registration add-on (while supplies last!) to your registration, which includes a reflective race bandana for your dog!
Packet Pickup Options
Did you miss the in-person packet pickup? Email us at wellevents@unionwellinc.org to pickup your race swag!
Program Fund Donation Recipient
The Sac State 5K Fun Run is celebrating 13 years running in 2021 by donating the 5K net proceeds after direct costs to the Sac State Greatest Needs Fund, which is managed by University Development. This campus fund provides flexibility in supporting the most pressing needs of Sacramento State students, through scholarships, the ASI Food Pantry, Student Emergency Grant Fund, Student Emergency Housing, and more.
Race Policies
Participants must complete their 3.1 miles on their own time anywhere they choose. They can hike, walk, jog, roll or run their miles. We encourage all participants to practice physical distancing, adhere to all state guidelines and follow the rules of the road while getting their miles in.
Participants are responsible for submitting their finishing time by noon on Friday, April 30th.
Awards
Largest Team Participation Award
Chip Timing Results
Please note that due to the Virtual aspect of the 2021 Sac State 5k, there will be no chip timing.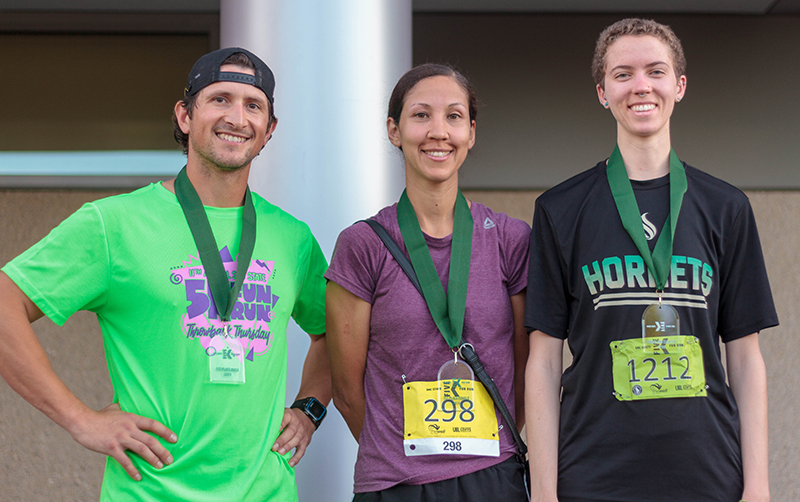 Sponsorship
Thank you to our Sac State 5K Fun Run Sponsors! We couldn't do what we do without your support!
2021 Presenting Sponsors
2021 Sprint Sponsors
Want to learn more about sponsorship opportunities? Email us at wellevents@unionwellinc.org for information!