VIRTUAL Sac State 5K Fun Run
Quick Links:
---
2020 Sac State 5k Fun Run Status Update:
Sacramento State is in the process of transitioning to virtual services and academic courses in order to contribute to the local and global COVID 19 mitigation efforts. As part of these efforts, President Nelsen has mandated all in-person events on the Sacramento State Campus will be cancelled for the remainder of the semester. This means that that the 2020 12th Annual Sac State 5k Fun Run cannot go on as originally scheduled.
HOWEVER, we remain committed to serving the students and our campus community during this time and understand that opportunities for exercise and recreation is critical to physical and mental health, especially reducing stress and keeping the immune system strong. We also remain committed to our cause of donating any net proceeds after direct costs to a participant selected Sac State Program Fund.
All of this means… that the 2020 Sac State 5k Fun Run is GOING VIRTUAL!
Not sure what a Virtual 5K is? Explore our Virtual 5K FAQ.
All currently registered participants should have received an email from the Race Director on March 19th. Check your Junk Mail Folder to make sure it isn't there! If you still don't have it, please email us at wellevents@unionwellinc.org to assist.
Sac State 5K Fun Run
The Sac State 5K Fun Run is an event for every physical level and ability! This is a run that you will love as you make your way through the California State University, Sacramento campus. This race is open to everyone! Students, faculty, staff, alumni, and community members of all ages are welcome to sign up to be a part of this University tradition.
We host a wide range of abilities from competitive 5K enthusiasts to casual run/walkers. We hope that you join us for this annual event, and have a great 5K experience at Sac State!
Register
Volunteer
Couch to 5K
12th Annual Sac State 5k Fun Run
Race Through Space
Registration
The Sac State 5K Fun Run is open to all members of the Sacramento community. All ages and abilities are welcome to participate.There is no age limit for participating. Volunteers must be 18 years or older. Mothers with strollers are welcome, however strollers must be in the last leg of the race for safety. Unfortunately dogs are not allowed at the race, with the exception of Service Animals.
Registration includes
Your race bib and chip timing
Sac State 5K Fun Run t-shirt
Post race refreshments
Access to bag check
Registration Pricing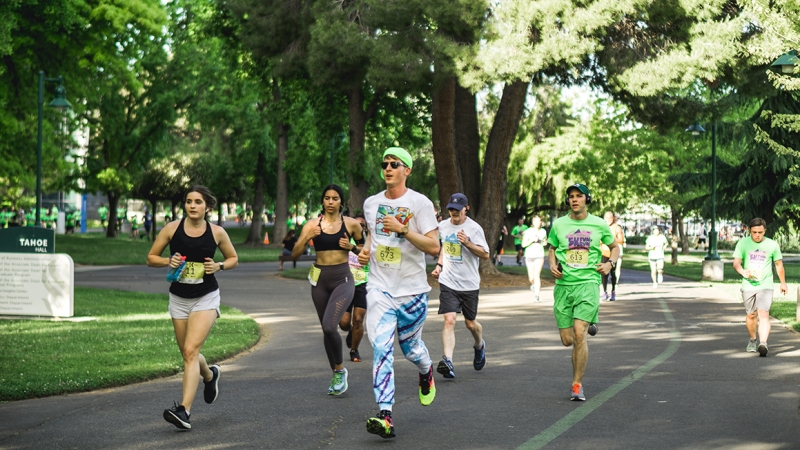 Program Fund Donation Recipients

The Sac State 5K Fun Run is celebrating 12 years running by donating the 5K net proceeds from direct costs to a participant selected Sac State Scholarship and Student Program Fund, which are managed by University Development. The Fund which receives the most nominations will receive the donation and it will be announced on Race Day. To nominate a recipient, select a program fund on page three of registration. Race participants do not need to pledge any additional funds to nominate a recipient. These funds have been selected because they align with the seven dimensions of wellness and correlate with The WELL's mission of Lifetime Wellness through Collaboration, Education, and Innovation. Below are the four Sac State Student Program Funds, which have been identified as the potential donation recipients.

Guardian Scholars Program Fund
The mission of the Guardian Scholars Program is to improve the life and success rate of former foster youth by administering helpful services such as professional mentoring, academic advising, career counseling, financial assistance, scholarships, and community building events that are all essential for learning, growth, and success on a college campus. We are committed to doing outreach in the community and creating meaningful opportunities for current students at Sac State in order to improve the livelihood of foster youth students. Learn more about Guardian Scholars.

Student Emergency Housing Fund
Student Emergency Housing is a collaboration between Student Affairs CARES Office and Housing & Residential Life. The program provides short-term housing assistance to students who are unexpectedly displaced from their homes and helps find permanent solutions.Learn more about the Student Emergency Housing Fund.

Students with Disabilities Scholarship Fund
This fund supports a Sac State campus scholarship for students with disabilities that is administered through the Department of Financial Aid. Students must meet certain eligibility requirements to apply for it. Learn more about the Students with Disabilities Scholarship Fund.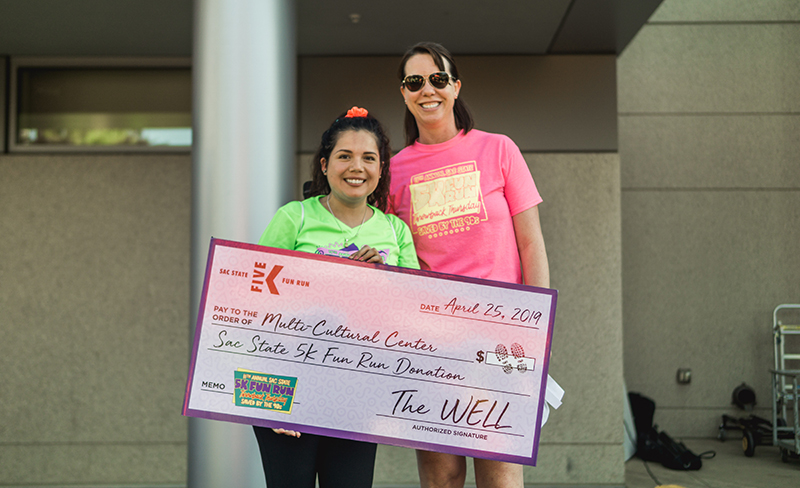 Race Policies
Runners must arrive at least 10 minutes prior to race time, or they will not be permitted to run. We begin picking up the course immediately after the race begins to reduce the time for road closures.
Strollers are allowed but must be in the last wave.
No dogs
No Headphones*
Children welcome
Community members welcome
*Participants wearing headphones are less aware of their surroundings and may not be aware of (1) starting line announcements; (2) instructions on the course from race management and volunteers (3) warnings that participants have strayed off course; (4) friendly warnings from another participant that is approaching to pass; and (5) finish line/chute announcements. Event personnel must be able to communicate with participants before, during and after the race.
Chip Timing Results & Awards
Previous Race Results

Collaborations
Sponsorships
The WELL accepts sponsorships for the race that align with our organizational mission and values. A special thank you to our 2020 Presenting Sponsors: Upper Eastside Lofts & Sac State Housing and Residential Life and 2020 Sprint Sponsors: Raley's, HMC Architects, California Bank & Trust, Commercial Fitness, and Swinerton.
If you are interested in learning more about 2020 sponsorship opportunities please email wellevents@unionwellinc.org.
Volunteer
The Sac State 5K Fun Run relies on student and community volunteers to make the race possible. Volunteer opportunities are open to anyone over the age of 18. Duties may include packet pick up, course set up and take down, water stations, passing out snacks, assisting with bag check, etc. All volunteers are given a volunteer shirt, bag, and pizza after the race.
Packet Pick Up
More information about Race Swag pick up for the Virtual 5K to come soon.
ponsorship
Thank you to our 2020 Sac State 5K Fun Run Sponsors!
Presenting Sponsors
Sprint Sponsors